Benefits of Servicing your Vehicle at a Dealership
Benefits of Servicing your Vehicle at a Dealership – Team One Hyundai
The service center at Team One Hyundai will exceed your expectations & delight you with their exceptional repair services. Customer satisfaction is always their first goal, and their service center provides exceptional response times to their clients.
Parts Store
Team One Hyundai has a parts store that is open Monday through Friday from 7:30 am to 5:00 pm and 7:30 am to noon on Saturday. Which means quicker service for customers.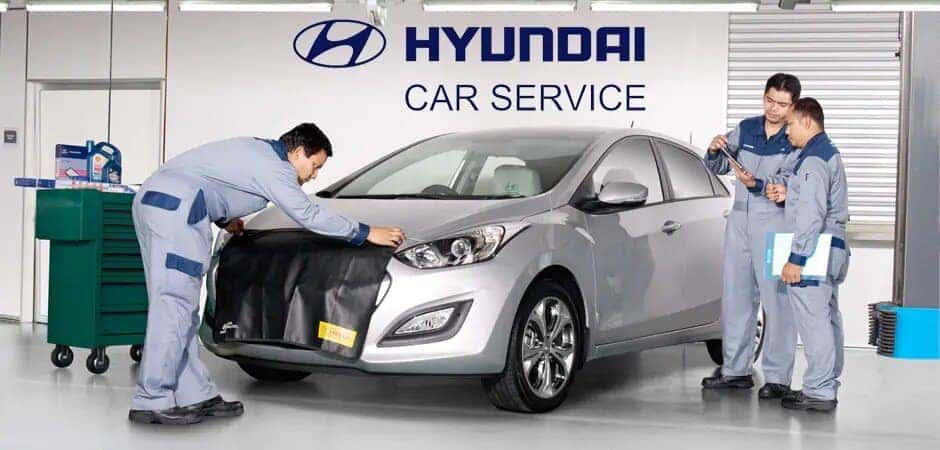 Franchise and independent mechanics usually must order the parts, which adds to the wait time and even the cost of your repair, because they may mark up the price of the part. Often, a repair that would normally take an hour may take anywhere from a day to a few weeks if the parts are not available.
At Team One Hyundai there is no need to order parts and wait for them to come in before your vehicle can be repaired, which is a huge time saver.
Certified Expert Mechanics
One of the most significant advantages of receiving car repairs and servicing at Team One Hyundai is that all the mechanics are manufacturer-trained and certified.
These mechanics have attained a specialty in your vehicle's model, and they frequently receive continuous, mandatory training to stay current with the latest technologies. Since the dealership has special equipment and a parts division on location, they can usually diagnose and repair any problem quickly.
State-of-the-Art Equipment
Team One Hyundai has the most up-to-date equipment. This helps the mechanics stay on top of the newest innovations in the industry. Allowing them to correctly diagnose problems, for example, a car dealership that sells hybrid or electric vehicles needs specific diagnostic equipment and machinery an independently owned shop probably would not have because there isn't enough volume in those vehicles to justify such an expensive investment.
The same can be said for luxury automobiles or perhaps more challenging repair jobs; many small companies may be hesitant to take on that risk due to inexperience with specific models or a lack of the appropriate equipment required for the repairs.
Dealership / Customer Relationship
If you take your vehicle Team One Hyundai for regular maintenance, eventually you are going to get to know the mechanics and they will get to know you and, most importantly, they are going to become familiar with your specific car.
The mechanics will know the car's history and if this is the mechanics' first time servicing or repairing your vehicle, they have all the service records available to them plus the mechanic who may have worked on your car in the past at their disposal.
When you know the mechanics and they know you and your vehicle, you're no longer seen as the 1:00 pm oil change or brake repair. You become a person and it's a proven fact that when you "know" someone you're more likely to want to please them. Therefore, a 30-minute oil change is done in 30 minutes, not two hours.
Delays are a big issue at independently owned auto repair shops. Whether it's because they must order the parts and wait for them to be delivered from a local auto store or if they have problems troubleshooting your car's problems or they took a quick, simple job ahead of you. Either way, if you take your vehicle to Team One Hyundai, you will get treated well and with respect.
Original Equipment
When you take your vehicle to Team One Hyundai for repairs, you will be offered original equipment that comes straight from the manufacturer. Often, when other branded parts are used in a vehicle, they are not a perfect fit and problems can still occur.
Independent auto garages do not have the ability to offer or provide you with an original part to repair your vehicle.
It's always better to replace a broken part with a manufactured original part. That way you know you are getting a brand new version of what was removed from your car.
Team One Hyundai goes above and beyond to make sure their customers are happy with the repairs. If they run into a problem, they can always bring the car back to be looked at and any problems fixed. Customer satisfaction is extremely important to Team One Hyundai's certified mechanics.